At Articy we are always excited about our customers' projects and how they use articy:draft. This time our guest of honor is Dmitry, from Aurum Dust. They are working hard on their game Ash of Gods, a turn-based RPG with roguelike elements.
Articy: As a start, can you introduce yourself and your company in a few words?
Aurum Dust: My name is Dmitry Erokhin and I am the narrative designer of Ash of Gods. I've worked for Aurum Dust since 2016, before it was actually a studio. Back then it was just me and our "main dude" Nikolay Bondarenko, the creator of Aurum Dust. We are a small, mostly Russian, independent team, and most of us work remotely.
Articy: Can you also tell us a little bit about the folks you work with developing Ash of Gods?
Aurum Dust: Well, they're a great bunch of dudes. Quite a few of them have beards. Most of us have known each other for long but we've all come together just so we can work on Ash of Gods. We've got various veterans from the game industry in our team and everybody has his own story, so it would take too long to tell everything. If you're interested, you can check our site for more details.
Articy: As we now mentioned Ash of Gods … Can you please describe your current project a little to us?
Aurum Dust: Ash of Gods is a mix between a roguelike role-playing visual novel and an online turn-based strategy game. It has been heavily inspired by The Banner Saga series, Japanese visual novel games, and the spirit of The Darkest Dungeon.
Articy: What do you think this game has that others in that genre can't offer? In other words – what's the games "specialty"?
Aurum Dust: For me it is an emphasis on roguelike storytelling. The dialogue choices you make, journey paths you take and battles you fight truly affect the story and the world around you. The team's resources and time are limited—you must choose who should live and who must die in order to continue along your path. If you rush forward mindlessly, you will gradually lose your characters, including the major ones. But even the death of the party's leader will not lead to "game over"!
Articy: Regarding storytelling in Ash of Gods … The player will have a great amount of impact. What do you have to do differently developing such a game rather than a more linear title? To mind comes, that you have to write and control a trillion lines of text for the branches & possibilities.
Aurum Dust: You've already answered your own question. Not a trillion, but still pretty many! Some decisions will have an impact in short terms, some will affect what game ending you can get, some will even affect another character's storyline. A complicated web of decisions and impacts – that's what I am working with.
Articy: Any thought on the evolution of interactive storytelling in the future?
Aurum Dust: I don't want to do analytics and predictions, but I want to express my wishes. There should be more and more emotional attachment of the player to what's happening in the game. Characters and their experiences should be revealed at the same level as a combination of literature and the cinema. That's what I would like to see in interactive storytelling in the future.
Articy: What game development tools are you using?
Aurum Dust: articy, Unity, some self-written tools, my own brain and the brains of my colleagues (no eating, just asking their opinion).
Articy: In the developing of the project … what was, from your perspective, the most complex and defiant challenge you faced regarding game mechanics / gameplay / tools / etc. pp.?
Aurum Dust: The complicated web of decisions and impacts I mentioned early. I really love and hate this part. And don't forget, we have to test the game somehow with all the combinations of choices a player can make. Fortunately, I don't need to face this challenge alone. Sergey Malitsky, our author, is working with me in articy:draft and helping a lot.
Articy: Did you expect this as the most complex challenge or was it a kind of surprise for you in the developing process?
Aurum Dust: Yes and no at the same time. I knew some of the goals would be very hard to achieve, but I underestimated the difficulty of the whole process. The creation of the plot, the writing of the text and the development of other aspects of the game – everything happens in parallel. Additionally I'm involved in such tasks as UI design, balance adjustment, contractor search etc. It turned out to be as easy as riding a bicycle. Except that the bicycle is in flames. And you're burning. And everything is on fire.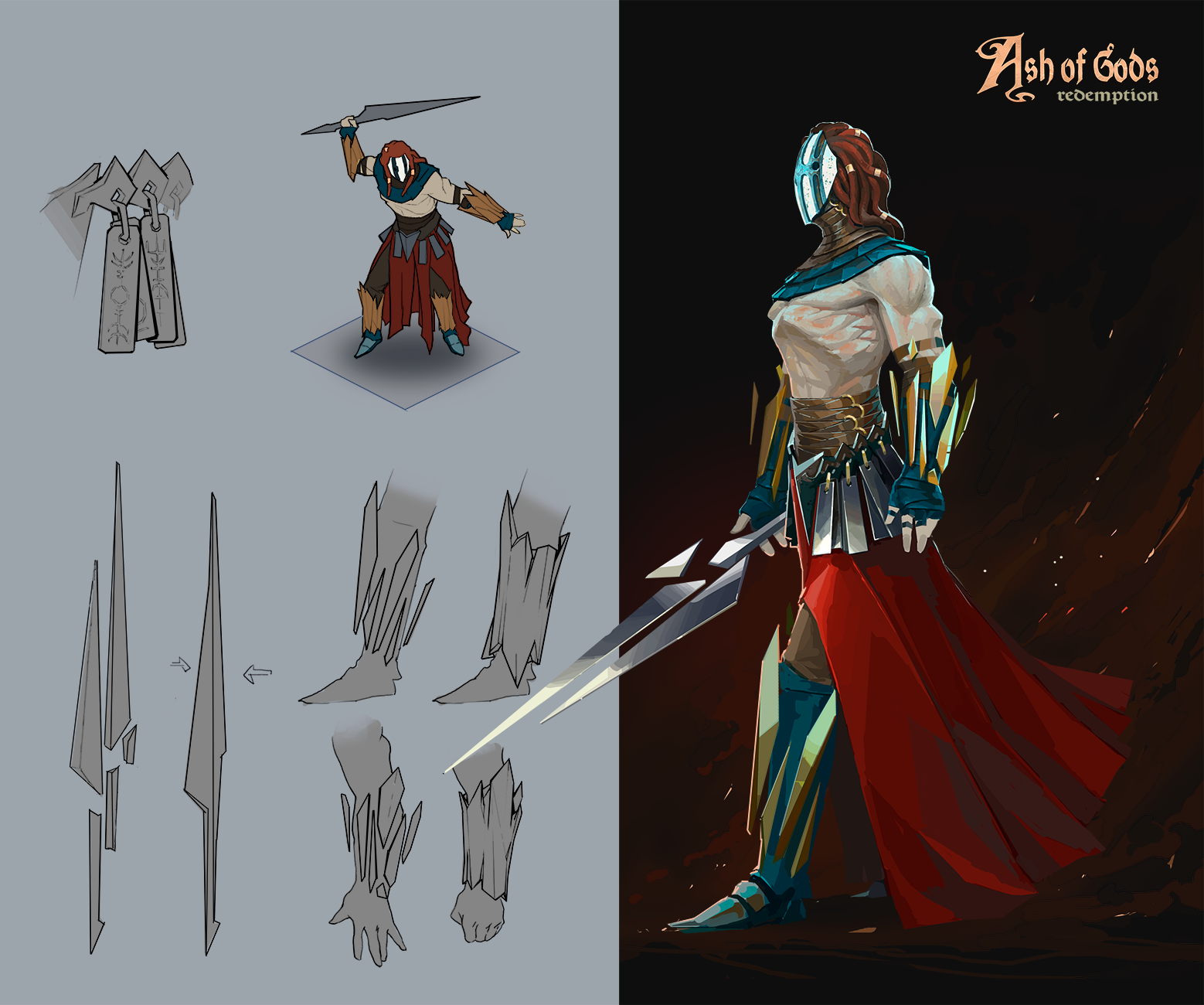 Articy: At what point did articy:draft become relevant/important in your developing process or did you use it from the get-go? And at what point do you benefit the most from it?
Aurum Dust: We've been using it from the beginning of game development. Our main dude knew we'd need something like this. We've got a book as a foundation for the game plot and it was when we started to create the in game text that we really began to bless Nevigo for what they did.
Articy: Why do you choose articy:draft over other tools – and please, if you will be so kind and it's possible, give us some pros and cons particularly in the context of your workflow/pipeline.
Aurum Dust: We just didn't find anything better. articy:draft seemed to have a friendly interface and plenty of scalable features, at least in the promo-materials. I can't say that I was disappointed, but I really need some more features so that the Journey mode can approximate the actual game process to a larger extent. What I think could help in this case:
Documentation on the internal script language with examples and detailed description of its capabilities, so that I could, for example, make a random choice from several Dialogs, when I get into the Flow fragment.
More functionality when working with locations. In Journey mode I would like to see the art of each location with all the icons I need. Clicking on an icon should then lead me to another location or to а Flow fragment, like the click in a real game.

Another feature I would like to see in articy:draft is more flexible search, like in MS Excel. For example, many UI elements are very restricted in their size, so it would be helpful if I could find all Dialogue fragments larger than 256 symbols.
Articy: Any last message? Anything in general you'd like to share with fellow developers? Or some practical advice or early warning for offspring developers?
Aurum Dust: If you are new to narrative game-design and articy:draft, don't ever forget to leave a lot of annotations about your ideas for a particular fragment. It will help your teammates a lot and it will help you when you need a rework. You will need it. For sure.